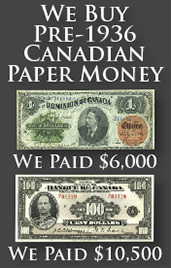 Value of Old Banknotes from The Central Bank of Canada in Toronto
Old Money from The Central Bank of Canada in Toronto
The Central Bank of Canada was located in Toronto and it opened in 1883.  The bank closed in 1887.  The British American Bank Note Co. Montreal printed five, ten, and fifty dollar bills for the bank.  The two lower denominations are dated as Jany 1st 1884.  Fifty dollar bills are dated as 3rd Jan. 1887.  Each note should have the engraved signature of D. Blain.  Generally speaking, five and ten dollar bills from The Central Bank of Canada are scarce, with $5 bills being about twice as common as $10 bills.  Fifty dollar bills have yet to be discovered as issued bank notes.  Proofs are available for around $1,000.  Issued notes are certainly worth more.  Please contact us if you would like a free appraisal.  We are also buyers.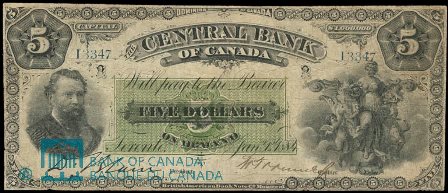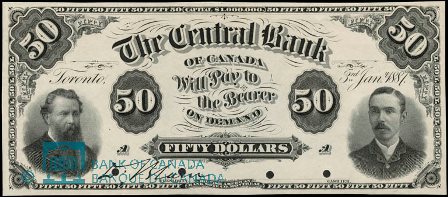 GOT SOMETHING TO SELL?
We buy all types of Canadian currency.  We are especially interested in bank notes from The Central Bank of Canada in Toronto.  You might be surprised at how much money we can offer for some currency.  Send us an email with pictures of the front and back of your bank note and we will respond quickly with our offer.
Sample Bank Note Image:
Your piece of currency from The Central Bank of Canada in Toronto could look similar to the one seen below.  Hopefully your note will be in better condition.  Of course $5 and $50 bills have different designs.  Contact us for more value information.