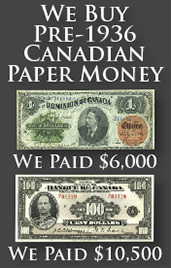 Value of Old Banknotes from The Weyburn Security Bank of Saskatchewan, Canada
Old Money from The Weyburn Security Bank of Saskatchewan
The Weyburn Security Bank opened in Saskatchewan in 1910.  It issued bank notes a year later.  The bank would ultimately be bought out by the Imperial Bank of Canada in 1931.  Our guide has more information about paper money from The Weyburn Security Bank.
Bank Notes from January 3rd 1911:
The Weyburn Security Bank issued beautiful and popular bank notes.  These notes were printed by The American Bank Note Co. Ottawa and The Canadian Bank Note Company, Limited.  Each note is signed by Alex Simpson.  The exact date is January 3rd 1911 or Jan. 3rd 1911 (depending on what denomination you have).  Despite all saying 1911, these were actually printed as late as 1929.  Printing totals look like this:  $5 Bills – 473,000, $10 Bills – 299,500, $20 Bills – 99,250.  Those aren't especially small quantities and all denominations do exist and are available to collectors.  However, they certainly aren't cheap.  Please contact us if you would like a free appraisal on your bank note; we are also buyers.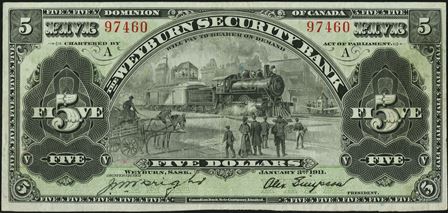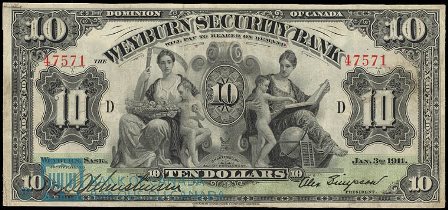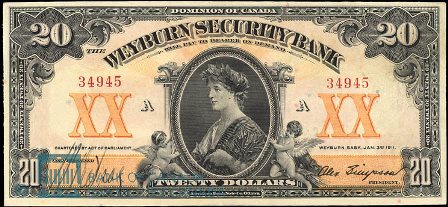 GOT SOMETHING TO SELL?
We buy all types of Canadian currency.  We are especially interested in bank notes from The Weyburn Security Bank of Saskatchewan.  You might be surprised at how much money we can offer for some currency.  We frequently pay thousands of dollars for nice looking notes.  Send us an email with pictures of the front and back of your bank note and we will respond quickly with our offer.
Sample Bank Note Image:
Your piece of currency from The Weyburn Security Bank of Saskatchewan could look similar to the one seen below. All three denominations are pictured on our guide.  Contact us for more value information.