Value of 1954 Devils Face $100 Bill from The Bank of Canada
Bank of Canada 1954 One Hundred Dollar Bill
Description: 1954 $100 bills were issued as "devils face" and as "modified portrait" notes. We show examples of both types in our picture guide below. If you look at Queen Elizabeth's hair then you can see a shape that looks like a hook nose, bushy eye brows, and snarled lips. That is the identifier for the devils face note. Our guide here specifically applies to devils face notes. The modified portrait variety is many times more common than the devils face variety. All Canadian bank notes from 1954 have a similar face design. Only the colors and back designs differ between denominations. One hundred dollar bills are sepia in color and show mountains and a valley on the back of each bank note.
Varieties: Some 1954 $100 bills were signed by J.E. Coyne and G.F. Towers and others were signed by J.R. Beattie and J.E. Coyne. Those are really the only two varieties to the Devils Face printings for the one hundred dollar denomination. Beattie notes sell for a 10-30% premium over Towers notes (based on the condition of the actual bank note).
Quantity Printed: approximately 2,392,000 (total applies only to Devils Face notes)
Text: Canada – One Hundred Dollars – Cent Dollars – Bank Of Canada – Banque Du Canada – Will pay to the bearer on demand – Ottawa 1954 – Paiera au porteur sur demande – Canadian bank note company limited – deputy governor – governor – sous gouverneur – gouverneur
DEVILS FACE FRONT:

MODIFIED PORTRAIT:

BANK NOTE BACK: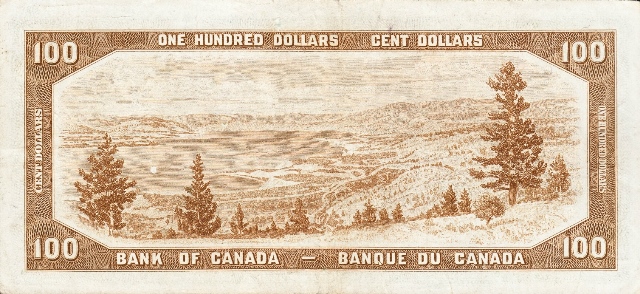 NEED AN APPRAISAL OR WANT TO SELL?
We are aggressively buying 1954 $100 devils face notes. Generic devils face $100 bills usually range in value from $120 to $600. Of course especially high grade notes could be worth more money. We would welcome the chance to work with you if you are looking to sell or just want a free appraisal. Send us pictures of your 1954 one hundred dollar bank note and we will respond back quickly with the value and our offer price.