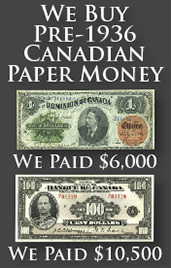 Rare Canadian Banknotes | Values and Prices
Other Types of Collectible Banknotes from Canada
Most Canadian banknotes are either from The Bank of Canada (La Banque Du Canada), The Dominion of Canada, or a Canadian chartered bank. However, there are still lots of banknotes that are very rare and valuable that do not fall into one of those three categories. We are attempting to highlight some of the rarer and reasonably available banknotes from outside of the main collecting areas. We are specifically looking at Province of Canada banknotes, Prince Edward Island banknotes, and Newfoundland Government banknotes. Read the guide below and click on a banknote image to learn more about that specific issue. Please remember that we buy banknotes and provide free appraisals. Don't hesitate to contact us for any reason.
Province of Canada 1866 Banknotes
These are a very unique issue. These banknotes were first designed, printed, and released for circulation when Canada was still a province. All of these notes are dated as October 1st 1866. They were actually printed and used for several years after that date. We are only showing one, two, and five dollar banknotes. However, $10, $20, $50, $100, and $500 bills were also issued. All of those higher denominations are extremely rare and not something you are likely to find today. These notes are valued based on their condition, denomination, and "Payable At" location. Montreal is the most common location. Other towns include Toronto, St. John, and Halifax. Please contact us if you need help valuing your banknote.
Prince Edward Island 1872 Banknotes
These are not the only banknotes to reference Prince Edward Island, but they are the most common. We are looking at $10 and $20 bills dated as 2nd January 1872. These were issued before Prince Edward Island joined the confederation in 1873. These notes are usually worth at least $2,000, or more based on their condition. Contact us for details.
Government of Newfoundland 1920 Banknotes
Here are some colorful and popular Canadian banknotes. These were issued because of a shortage in silver change around 1920. Silver was more valuable in other parts of the world, so people were melting coins and selling them for a profit. There were 600,000 Jany 2nd 1920 $1 bills and 300,000 January 1920 $2 bills printed. Of that total it is thought that around $12,000 in face value still survives today. That means that these aren't traditionally rare. However, high grades notes are few and far between. These are some of our favorite Canadian banknotes and we would welcome the chance to buy any examples.
Newfoundland Government Cash Notes
These are really interesting and historic Canadian banknotes. Newfoundland Government Cash Notes were issued from 1901 to 1914. They are kind of like a check or money order. The government used these to pay construction and maintenance crews working in Newfoundland. The notes were supposed to trade like cash. They could be redeemed at local banks. Once redeemed they were destroyed. Any denomination higher than $1 is very rare. Notes is grades above VF are also difficult to locate. These banknotes are a neat subset to currency collecting. Contact us if you would like a free appraisal.
GOT SOMETHING TO SELL?
We buy all of the Canadian banknotes we have listed in our guide above. Most are worth at least a few hundred dollars. However, we frequently pay thousands of dollars for rare and/or high grade examples. Please send us pictures of your paper money and we will respond back quickly with a free appraisal and our best offer. The value might surprise you in a good way.