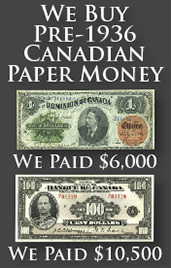 Banque Du Canada Paper Money
Value of Bank Notes from La Banque Du Canada
The Bank of Canada printed some bank notes in 1935 that have text only in the French language.  French notes printed in 1935 are generally two to five times rarer than the same 1935 English language notes; and French notes generally sell for at least a 50% premium.  It was very costly to print different bank notes for each language.  So 1935 marks the only year that La Banque Du Canada issued French only notes.  Canadian bank notes from 1937, 1954, and newer have both English and French text.  We have a guide for 1937 and 1954 notes on our Bank of Canada currency page.  We are specifically looking at $1, $2, $5, $10, $20, $25, $50, $100, $500, and $1000 bills from La Banque Du Canada on this guide.  Don't forget that we do provide free appraisals for all Canadian paper money.  Please send us an email with pictures of what you have and we will respond back quickly with our buy price.  Manning@CanadaCurrency.com
Banque Du Canada Bank Note Value Guide
Click on an image below to learn about the history and value of each French language bank note from 1935. You can also contact us directly if you would like a free appraisal.
GOT QUESTIONS OR WANT TO SELL?
Send us an email and let us know how we can help. We can answer all questions. We provide free appraisals. If you are looking to sell then we would certainly like a chance to make an offer on your collection. We buy all Banque Du Canada currency printed in 1935. We look forward to hearing from you.