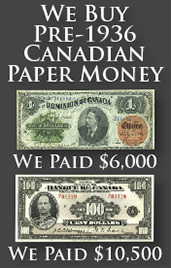 Value of 1935 $100 Bill from Banque Du Canada
Banque Du Canada 1935 One Hundred Dollar Bill
Description:   These are certainly far from the most flashy, colorful, or popular Canadian bank notes. However, many examples can be quite rare and valuable. We are looking at 1935 $100 bills from La Banque Du Canada. Each note has an engraved portrait of Prince Henry, Duke of Gloucester. The back shows a vignette of a man holding a ship and instructing a child. It is supposed to represent Commerce and Industry. Each note was printed by The Canadian Bank Note Company, Limited. The bottom of our guide has more information about how to price French version 1935 $100 bills.
Varieties:   There are no varieties for the Ottawa emission de 1935 $1 bill from La Banque Du Canada. Each note is signed by J.A.C. Osborne as the sous-gouverneur and by G.F. Towers as the gouverneur. Of course the red serial number and overall condition will differ from note to note.
Quantity Printed:   17,500
Text:   Ottawa, emission De 1935 – La Banque Du Canada – paiera au porteur sur demande – Cent Dollars – Canadian Bank note company limited
BANK NOTE FRONT:
BANK NOTE BACK:
NEED AN APPRAISAL OR WANT TO SELL?
We buy all French version emission de 1935 $100 bills from Canada. Values are based purely on condition and generally range from $1,000 to $15,000. If you would like our offer, then please send us pictures of your bank note. We will grade the paper money and respond back quickly with our buy and sell price. You might be surprised at how much money some high grade 1935 one hundred dollar bills are worth.