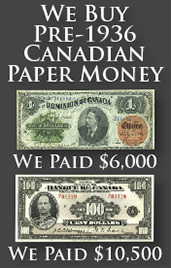 Value of 1935 $1 Bill from The Bank of Canada
Bank of Canada 1935 One Dollar Bill
Description:   You are looking at the English version of The Bank of Canada Issue of 1935 $1 bill. King George V is featured on the front of each one dollar bank note from 1935. The Canadian Bank Note Company, Limited printed this denomination for The Bank of Canada.
Varieties:   There are two varieties for the 1935 $1 bill from The Bank of Canada. Some are series A notes and others are series B. Series B notes usually sell for about 20% more than A notes. Otherwise, each note is exactly the same and signed by J.A.C. Osborne as the Deputy Governor and by G.F. Towers as the Governor.
Quantity Printed:   60,312,000
Text:   Ottawa, issue of 1935 – The Bank Of Canada – Will pay to the bearer on demand – One Dollar – Canadian bank note company limited – deputy governor – governor
BANK NOTE FRONT: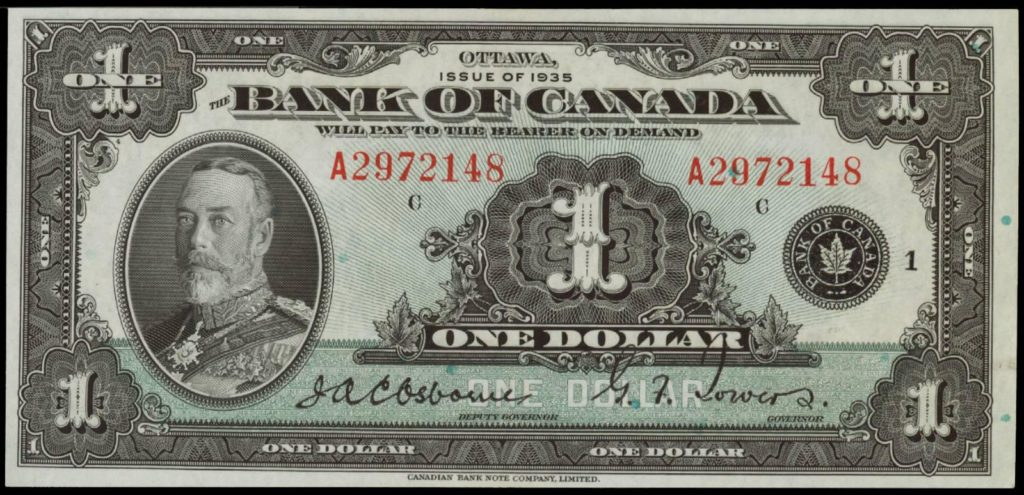 BANK NOTE BACK:
NEED AN APPRAISAL OR WANT TO SELL?
We buy all issue of 1935 $1 bills from Canada. Values are based purely on condition and generally range from $15 to $500. If you would like our offer, then please send us pictures of your bank note. We will grade the paper money and respond back quickly with our buy and sell price. You might be surprised at how much money some high grade 1935 one dollar bills are worth.