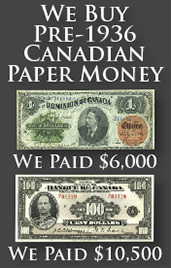 Value of Old Banknotes from The Free Holders Bank of The Midland District in Bath, Canada
Old Money from The Free Holders Bank of The Midland District in Bath
There was only one bank in Bath, Ontario that printed bank notes.  That bank was of course The Free Holders Bank of the Midland District.  This bank in fact never really opened for business.  It designed and ordered bank notes.  Due in part to legislation changing in Upper Canada in 1837, this bank was forced to close before it opened.  Today we are left with remainder bank notes.  That means that these bank notes never entered circulation and they weren't dated, numbered, or signed.  If you have a bank note that is dated, numbered, or signed then it was done so after the fact and actually probably lowers the value.
Bank notes were printed for the five shillings (one dollar) and twenty-five shillings (five dollars) denominations.  Both are worth the same amount of money today.  Values are really just influenced by condition for this series.  Please contact us for exact pricing.  We are buyers.
GOT SOMETHING TO SELL?
We buy all types of Canadian currency. We are especially interested in bank notes from The Free Holders Bank of The Midland District in Bath. You might be surprised at how much money we can offer for some currency. Send us an email with pictures of the front and back of your bank note and we will respond quickly with our offer.