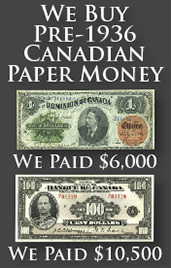 Value of Old Banknotes from The Bank of Brantford, Canada
Old Money from The Bank of Brantford
Currency from The Bank of Brantford was actually most commonly seen in The United States.  Somehow or another its bank notes were viewed suspiciously in Ontario.  Most bank notes will have an 1859 and a green or red tint.  All bank notes are relatively common, but not always cheap.
Green Notes – Brantford – 1859
These bank notes were issued for the $1, $2, $4, and $5 denominations.  They are found as issued bank notes.  Prices start at $100.  They will have a date of Nov. 1 1859 or Novr. 1st, 1859.  There are lots of varieties out there.  Most varieties relate to overprints on the back of each note.  Some have a picture of cyclist Fred Westbrook and reference his 10 mile champion of Canada status.  They also say Hotel Belmont, Brantford Canada.  Some people think these bank notes are from a later date because they say "Issued and payable at the agency in Honiton, 1st May 1862."  These were printed by the American Bank Note Company and they could be signed by S.P. Stokes, J.J. Kingsmill, or Peter Carroll.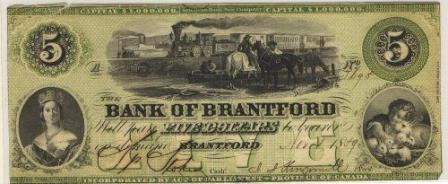 Red Notes – Sault St. Marie – 1859
This series is a little less complicated than the green notes.  These red notes (as seen below) are only found today as remainder notes.  Collectors expect these to be in perfect condition.  One, two, four, and five dollar notes were printed but never signed or numbered.  These are also dated November 1st 1859, but they weren't printed until August 1862.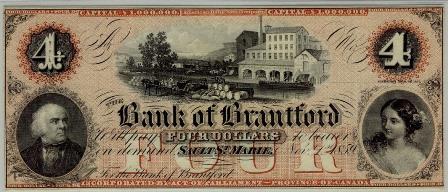 GOT SOMETHING TO SELL?
We buy all types of Canadian currency. We are especially interested in bank notes from The Bank of Brantford. You might be surprised at how much money we can offer for some currency. Send us an email with pictures of the front and back of your bank note and we will respond quickly with our offer.