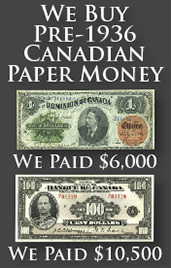 Value of Old Banknotes from The Bank of Clifton, Province of Canada
Old Money from The Bank of Clifton
The Bank of Clifton was open from 1859 until 1863.  It was really just a reincarnation of The Zimmerman Bank.  Generally speaking, bank notes from The Bank of Clifton are fairly common and readily available.  The bank never printed anything higher than the five dollar denomination.  There are some uncommon varieties that we discuss in our guide below.  If you have a bank note from Clifton then you should contact us with pictures of it so we can check it for varieties.
Bank Notes from 1859:
One, three, and five dollar bank notes were printed with October 1st 1859 and November 1st 1859 issue dates.  Most of these can be bought for less than $200 each.  Notes could be signed by E.W. Hulburd, and/or E.W. Lusk.  Various text references "Incorporated By Act Of Parliament", "Capital One Million Dollars", and "American Bank Note Co. New York".  Some bank notes have an overprint for Ottawa, Ill.  We have a $1 bill shown below.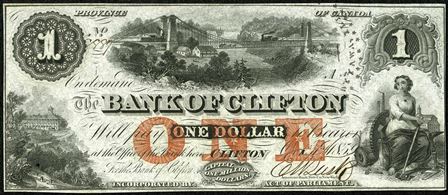 Bank Notes from 1860 and 1861:
The Bank of Clifton printed one, two, and five dollar bank notes, each of which has a vignette showing St. George slaying a dragon.  98% of these bank notes are very common.  We are going to briefly address the rare ones.  It is very important to look at the date on your bank note.  It should say Sept 1, 1860 with a line drawn through the 0.  Or it should say Sept. 1 1861.  If for some reason you have an 1860 note that doesn't have a 1 through the 0, then you have a rare variety that is considered to be an error.  You also need to pay attention to the overprint.  There are five different overprints.  One overprint references Sassenberg, another Lau, and three reference Chadwick.  Lau and Chadwick notes command premiums.  All bank notes should be signed by J. Brown (James Brown).


GOT SOMETHING TO SELL?
We buy all types of Canadian currency.  We are especially interested in bank notes from The Bank of Clifton.  You might be surprised at how much money we can offer for some currency.  Send us an email with pictures of the front and back of your bank note and we will respond quickly with our offer.
Sample Bank Note Image:
Your piece of currency from The Bank of Clifton could look similar to the one seen below.  There are four different major design types – so don't worry if yours looks different.  Contact us for more value information.