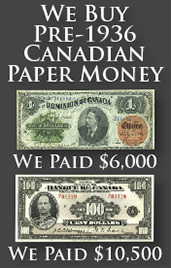 Value of Old Banknotes from The Commercial Bank of Canada in Collingwood
Old Money from The Commercial Bank of Canada in Collingwood
There was no true Commercial Bank of Canada or Commercial Branch Bank of Canada in Collingwood.  All of these paper money issues would be considered spurious.  Despite the fact that these are fake, there is still a market for them.  This is the only type of paper money associated with Collingwood.  So it is going to appeal to some people.  Three and five dollar bank notes were issued with series dates of September 10th 1861 or July 10th 1862, written as Sept. 10 and July 10.  C.H. Holland or A.O. Walter could have signed each note.  They show an imprint of Union Bank Note Company.  These bank notes were actually lithographed instead of engraved, so the printing quality is different than most other chartered bank notes.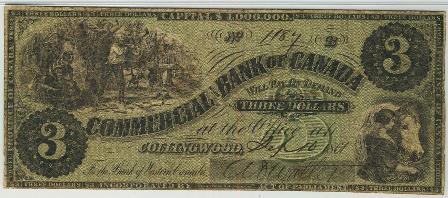 GOT SOMETHING TO SELL?
We buy all types of Canadian currency.  We are especially interested in bank notes from The Commercial Bank of Canada in Collingwood.  You might be surprised at how much money we can offer for some currency.  Send us an email with pictures of the front and back of your bank note and we will respond quickly with our offer.
Sample Bank Note Image:
Your piece of currency from The Commercial Bank of Canada in Collingwood could look similar to the five dollar bill seen below or it could look like the three dollar bill above.  Contact us for more value information.