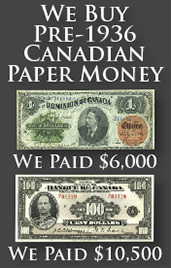 Value of Old Banknotes from The Zimmerman Bank of Elgin, Canada
Old Money from The Zimmerman Bank of Elgin
The Zimmerman Bank was open from October 1854 until 1859 when it changed its name to the Bank of Clifton.  The Zimmerman Bank was founded by its namesake Samuel Zimmerman, along with the Honourable John Hilyard Cameron, Luther H. Holton, James A. Woodruff, James Oswald, John L. Ranney, and Richard Woodruff.  The bank originally started as a "free bank" and in 1855 it obtained a charter.  When Samuel Zimmerman died in March 1857 it was decided that bank operations should wrap up and be sold.  The Bank of Upper Canada took over its note redemptions in 1858 and in 1859 the Bank of Clifton was formed from what was left of The Zimmerman Bank.  Bank notes from The Zimmerman Bank can be broken down into two categories, free bank issues and charter bank issues.
Free Bank Notes 1854 – 1855:
These bank notes should have issue dates of November 1854 or October 1st 1855.  The dates are written as 2 Nov. 1854 and 1st Oct. 1855.  One, three, five, ten, and twenty dollar bank notes were printed.  Notes of the one and five dollar denomination are occasionally available, all other denominations are very rare.  These were printed by Toppan, Carpenter, Casilear & Co. Montreal.  Each note should be signed by G. McMicken and S. Zimmerman.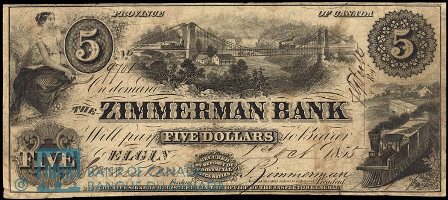 Elgin Bank Notes from 1856:
Similar bank note designs were used for 1856 $1, $3, $5, $10, and $20 bills from 1856.  The earlier bank notes have text that reads "Secured By Deposit Of Provincial Securities" and bank notes from 1856 read as "Capital One Million Dollars" and Elgin is printed on 1856 notes.  The artwork is the same but these bank notes should have the denomination written in big red or blue letters on the front and back of each note.  The back wording could be a mirror image, so instead of saying FIVE it might read as EVIF (except the letters themselves would also be mirrored.  The currency should be signed by G. McMicken and S. Zimmerman or J.W. Dunklee and S. Zimmerman.  Dates could be June 7, July 7, August 7, or December 1.  Most bank notes like this should sell for around $100 to $300, or more if they are especially high grade.  Ten and twenty dollar bills are definitely rarer.  Please contact us if you have one of those.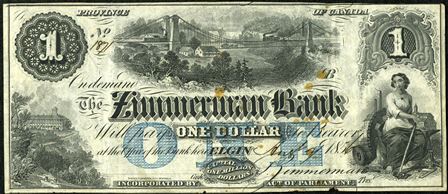 Clifton Bank Notes from 185_:
These are the last bank notes printed by The Zimmerman Bank.  They are like earlier issues except that now the location of Clifton instead of Elgin is printed on the front of each bank note.  These only exist as remainders today.  If you have one that has a full date or signatures then it has been added after the fact and that actually lowers the value of the bank note.  See the bottom of the guide for an example of what one of these bank notes should look like.
GOT SOMETHING TO SELL?
We buy all types of Canadian currency.  We are especially interested in bank notes from The Zimmerman Bank of Elgin.  You might be surprised at how much money we can offer for some currency.  Send us an email with pictures of the front and back of your bank note and we will respond quickly with our offer.
Sample Bank Note Image:
Your piece of currency from The Zimmerman Bank of Elgin could look similar to the one seen below.   We have a $1, $3, and $5 bill shown on this page.  The higher denominations are much more difficult to locate.  Contact us for more value information.