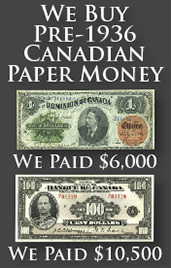 Value of Old Banknotes from The Bank of Fredericton New Brunswick, Canada
Old Money from The Bank of Fredericton New Brunswick
The Bank of Fredericton opened in 1836 and closed in 1839.  It printed five different bank note varieties, all of which are very rare today.  The Bank of Fredericton was merged with The Commercial Bank of New Brunswick on January 22nd 1839.  One would think that The Commercial Bank took every chance it could to remove and destroy any bank notes from the Bank of Fredericton.  That probably accounts for the scarcity of such bank notes today.
Bank Notes from 1837 & 1838:
The Bank of Fredericton issued bank notes dated as 8th May 1837, 6th March 1838, and simply 18__.  Five shillings, ten shillings, one pound, and five pound bank notes were printed.  Five shillings bank notes (as seen at the bottom of this page) are extremely scarce.  All other denominations are not currently known to exist.  The New England Bank Note Co printed currency for The Bank of Fredericton.  Each bank note should have two signatures.  The signature on the left hand side of each note is generally illegible; Asa Coy signed on the right hand side of each bank note.
GOT SOMETHING TO SELL?
We buy all types of Canadian currency.  We are especially interested in bank notes from The Bank of Fredericton New Brunswick.  You might be surprised at how much money we can offer for some currency.  Send us an email with pictures of the front and back of your bank note and we will respond quickly with our offer.
Sample Bank Note Image:
Your piece of currency from The Bank of Fredericton New Brunswick could look similar to the one seen below.  Other denominations were printed, but they have yet to be discovered.  Contact us for more value information.