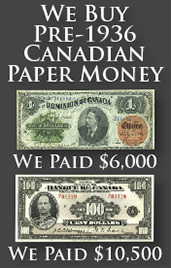 Value of Old Banknotes from The Peoples Bank of Halifax Nova Scotia, Canada
Old Money from The Peoples Bank of Halifax, Nova Scotia
The People's Bank of Halifax opened for business in 1864 and it was purchased by The Bank of Montreal in 1905.  The bank had 26 branches by the time it was bought out.  It issued four, five, ten, and twenty dollar bank notes.  The denominations have similar designs across different years.  Our guide is sorted by denomination rather than by year.
Four Dollar Bank Notes:
The People's Bank of Halifax printed $4 bills with a date of July 1st 1870.  Most of these notes have a red overprint and seal that reads as "Canada Currency" and "Canada Currency issue of July 1871."  These are rare, but they are the most common notes from this bank.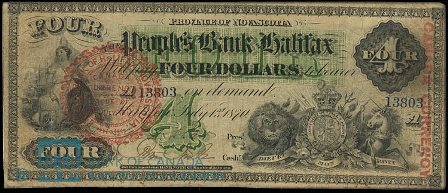 Five Dollar Bank Notes:
Five dollar bills were printed for July 1st 1870, July 1st 1882, Nov. 1st 1894, April 1st 1899, 2nd Jan 1900, 1st Oct. 1900, and 1st Oct. 1901.  All of these bank notes were printed by the British American Bank Note Co.  The $5 bills from 1901 are occasionally available.  Everything else is extremely rare.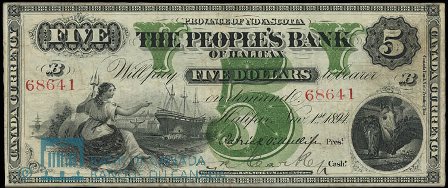 Ten Dollar Bank Notes:
The People's Bank of Halifax issued ten dollar bank notes in 1880, 1894, 1900, 1901, and 1903.  We have one pictured below.  These are all very rare.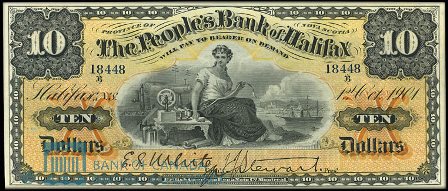 Twenty Dollar Bank Notes:
Twenty dollar bills were issued for 25th May 1864, 2nd July 1903, and 1st November 1898.  These were actually printed by The American Bank Note CO. NY and Ottawa.  This is the only denomination handled by those printers.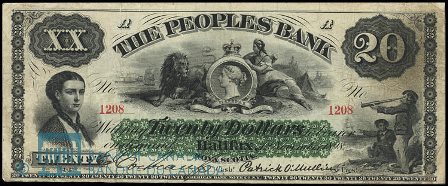 GOT SOMETHING TO SELL?
We buy all types of Canadian currency.  We are especially interested in bank notes from The People's Bank of Halifax, Nova Scotia.  You might be surprised at how much money we can offer for some currency.  Send us an email with pictures of the front and back of your bank note and we will respond quickly with our offer.
Sample Bank Note Image:
Your piece of currency from The People's Bank of Halifax, Nova Scotia could look similar to the one seen below.  We are showing a proof note.  Proofs and specimens don't have serial number, signatures, or dates.  They are much more common than issued notes.  Issued bank notes could be signed by lots of different people including: Patrick O'Mullin, J.J. Stewart, Geo. H. Starr, Peter Jack, Augustus W. West, and others.  Contact us for more value information.