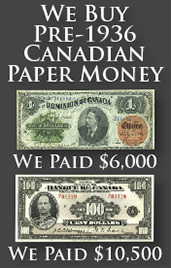 Value of Old Banknotes from The Gore Bank in Hamilton, Canada
Old Money from The Gore Bank in Hamilton
The Gore Bank existed from 1835 until 1870.  The bank itself was very successful during the land boom in the 1850s.  Sadly, the failure of other banks resulted in too many depositor withdrawals for The Gore Bank.  Its balance sheet got upside down and it was eventually absorbed by The Canadian Bank of Commerce, at a great loss to The Gore Bank's shareholders.  During its lifetime the bank issued one, two, four, and ten dollar bank notes.  See our guide below for more information.
Bank Notes from 1836 – 1856:
If you are reading our guide and you have a bank note from The Gore Bank, then you probably have a counterfeit $4 bill from 1852.  All authentic and issued bank notes from this institution are very rare and seldomly offered for sale.  Here is how the issue years breakdown per denomination:
$1:  6 Feb. 1840, 1 Nov. 1849, 1 Mar. 1850, 2nd Sept. 1850
$2:  Dec. 9 1845, 2nd Sept. 1850, 2nd Septr. 1852, 2nd June, 1856
$4:  Nov. 7 1836, July 1839, 1 Mar. 1850, 2nd Septr. 1852
$10:  Nov. 16 1836, Jan. 3 1839, 2nd Septr. 1852
(February, March, September, November, and December are abbreviated above)
All bank notes were printed by the New England Bank Note Co. Boston.  Notes could be signed by A. Steven, J.M. Whyte, Colin C. Ferrie, Wm. G. Crawford, W.G. Cassels, or Robt. Park.  Please contact us if you need help valuing your paper money.
GOT SOMETHING TO SELL?
We buy all types of Canadian currency.  We are especially interested in bank notes from The Gore Bank in Hamilton.  You might be surprised at how much money we can offer for some currency.  Send us an email with pictures of the front and back of your bank note and we will respond quickly with our offer.
Sample Bank Note Image:
Your piece of currency from The Gore Bank in Hamilton could look similar to the one seen below.  Two, four, and ten dollar bills were also printed.  Contact us for more value information.