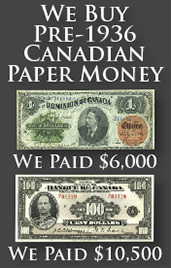 Value of Old Banknotes from The Accommodation Bank of Kingston, Canada
Old Money from The Accommodation Bank of Kingston
There is not a whole lot to be said about The Accommodation Bank of Kingston.  In fact, we aren't even sure if it was located in Kingston.  A couple of newspapers from the time period reference the bank as being in Bath.  We do know that the bank contracted with Rawdon, Wright and Hatch New-York to print at least 3,000 $4 bills.  These bank notes are dated as Jany 26 1837.  They should be signed by J. Everitt and J. Miller.  Most of what you will see on the market today are remainders.
GOT SOMETHING TO SELL?
We buy all types of Canadian currency.  We are especially interested in bank notes from The Accommodation Bank of Kingston.  You might be surprised at how much money we can offer for some currency.  Send us an email with pictures of the front and back of your bank note and we will respond quickly with our offer.
Sample Bank Note Image:
Your piece of currency from The Accommodation Bank of Kingston could look similar to the one seen below.  Contact us for more value information.