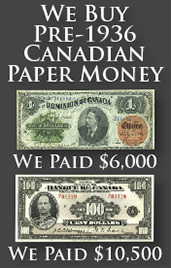 Value of Old Banknotes from The Commercial Bank of the Midland District in Kingston, Canada
Old Money from The Commercial Bank of the Midland District in Kingston
This bank was open from 1831 until 1856.  It changed its name to The Commercial Bank of Canada in 1856.  It issued lots of different bank notes during its time as the Midland District Bank.  Our guide below has more information about its currency.
Bank Notes from 1832 – 1835:
The first type of currency issued by The Commercial Bank of the Midland District can be dated as Aug. 2 1832, 1st March 1833, 1 Novr. 1833, or 1 Jany. 1835.  These were printed as one dollar (five shillings) and two dollar (ten shillings) bills.  Each note should be signed by Harper and John S. Cartwright or J. Watkins.  Rawdon, Clark & Co. Albany handled the printing responsibilities.  We have a two dollar bank note shown at the bottom of this page.
Bank Notes from 1836:
These are dated as March 1st 1836.  One, two, and five dollar bills were printed.  Five dollar bank notes are very rare.  The two lower denominations are scarce but occasionally available.  Possible signors include F.A. Harper, W. Logie, M. McCauley, J. Hamilton, and J.S. Cartwright.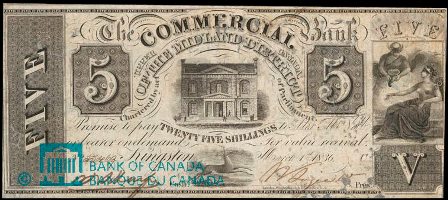 Bank Notes from 1843:
Currency from 1st July 1843 can be payable at Montreal or Kingston.  Notes from Kingston are rarer than Montreal notes.  Kingston issues are limited to the five dollar (twenty five shillings) denomination.  Montreal includes the $5 bill, plus $1, $2, and $10 bills.  Those are also denominated as five shillings, ten shillings, and fifty shillings.  Montreal notes were signed by Jno. V. Noel and A.H. Campbell.  Kingston notes were signed by C.S. Campbell and C.A. Ross.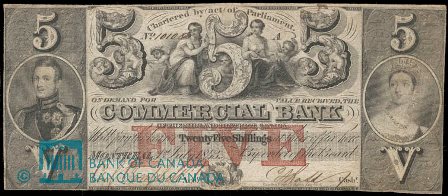 Bank Notes from 1845:
These are generally called Toronto red backs.  They are dated as 1st July 1845.  One and two dollar bank notes were printed; both are scarce.
Bank Notes from 1846 – 1854:
All of these bank notes are payable at Kingston and include the $1, $2, $5, $10, $20, $50, and $100 denominations.  One dollar bank notes are scarce, but available.  All other denominations are very rare.  Notes could be dated as 1 July 1846, 1847, 1848, 1853, and 1854.  Some could have red overprints for Toronto, Belleville, or Brockville.  Signatures include J. Rourke, Wm. J. Yarker, J.E. Pearce, Jno. V. Noel, and C.W. Hamilton.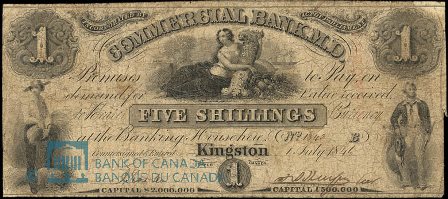 Four Dollar Bank Notes from 1854:
These notes from The Commercial Bank M.D. are dated as 2nd May 1854.  They can be payable at Brockville, Hamilton, London, St. Catherines, or Toronto.  Kingston is still engraved on each note.  One variety is engraved as Montreal and payable in Brockville.  J. Rourke and Jno. V. Noel signed these bank notes.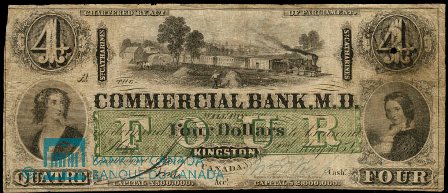 Counterfeits:
1848 $5 bills and 1854 $10 counterfeits are frequently encountered.  Tread carefully if you are considering a purchase from those dates and denominations.
GOT SOMETHING TO SELL?
We buy all types of Canadian currency.  We are especially interested in bank notes from The Commercial Bank of the Midland District in Kingston.  You might be surprised at how much money we can offer for some currency.   Send us an email with pictures of the front and back of your bank note and we will respond quickly with our offer.
Sample Bank Note Image:
Your piece of currency from The Commercial Bank of the Midland District in Kingston could look similar to the one seen below.  Several other types and denominations were printed.  Don't worry if yours is different.  Contact us for more value information.