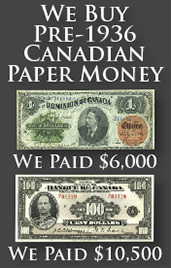 Value of Old Banknotes from The Provincial Bank of London, Canada
Old Money from The Provincial Bank of London
The Provincial Bank of London in Ontario never actually opened for business.  It ordered bank notes in 1884.  They are dated as Aug. 1 1884.  Five and ten dollar bills were printed by The British American Bank Note Company.  The right side of each note has an engraved signature of Thos. Fawcett.  The vignette on the left hand side of each bank note is that of Lord Dufferin.
GOT SOMETHING TO SELL?
We buy all types of Canadian currency.  We are especially interested in bank notes from The Provincial Bank of London.  You might be surprised at how much money we can offer for some currency.  Send us an email with pictures of the front and back of your bank note and we will respond quickly with our offer.
Sample Bank Note Image:
Your piece of currency from The Provincial Bank of London could look similar to the one seen below.  Ten dollar bills have a similar design that includes a vignette of a beaver.  Contact us for more value information.