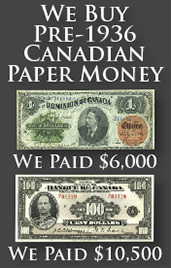 Value of Old Banknotes from La Banque Du Peuple in Montreal, Canada
Old Money from La Banque Du Peuple in Montreal
La Banque Du Peuple operated in Montreal from 1835 until 1895.  Several important accounts went bad in 1895 and the bank could not withstand the loss.  It was forced to close and creditors lost more than 1.7 million dollars.  La Banque Du Peuple issued bank notes from 1835 until 1895.  We have a very basic guide below.  Some of these bank notes are very rare but collector interest can be limited because the designs aren't especially eye appealing.  Please contact us if you would like to know the exact value of your bank note.
Bank Notes from 1835 & 1836:
These are dated as 11 Julliet 1835 or 2 Aout 1836.  One, two, five, and ten dollar bank notes were printed by Rawdon, Wright, Hatch & Co. New York for La Banque Du Peuple.  Signors include but are not limited to E.R. Fabre, John Donegani, B.H. Lemoine, and Viger DeWitt & Cie.  Prices start at about $200 and go up from there based on condition and rarity.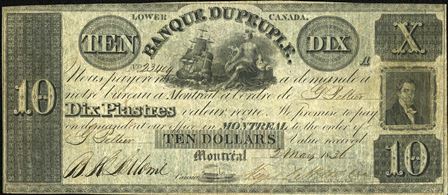 Bank Notes from 1838:
Only five dollar bills were issued with an engraved date of 1st July 1838.  Both issued bank notes and remainders exist today.  Please contact us for value information.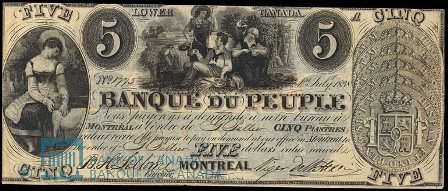 Bank Notes from 1839 & 1845:
These notes are generally grouped together because they have similar designs and were both printed by Durand & Compy New York.  One and two dollar bills can have an engraved date of 1st October 1839 or 1 Mars 1845.  Both dates and denominations have similar values.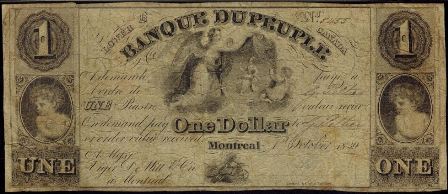 Bank Notes from 1845 – 1870:
We understand that 25 years is a long time period.  There were lots of denominations printed between 1845 and 1870.  Some notes were denominated in both dollars and pounds and shillings.  There is really too much to accurately describe in a short guide.  So if you have something from this time period then we would just recommend you contact us directly.  We can let you know what it is worth.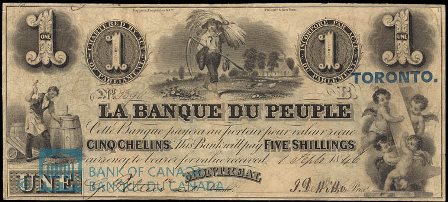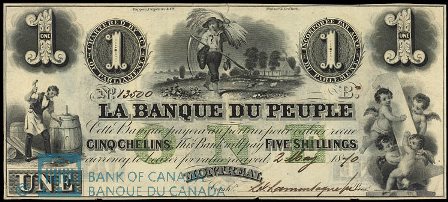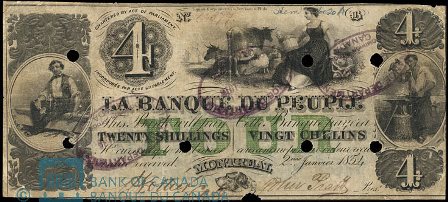 Bank Notes from 1882:
All bank notes issued by La Banque Du Peuple in 1882 should have an engraved date of May 2nd 1882.  Five and ten dollar bills were printed.  They are also denominated as one pound five shillings and two pound ten shillings bank notes.  Some have a "Quebec" overprint in blue.  Others could have a "DM" overprint in red ink.  Signatures include C.S. Cherrier, J. Grenier, and J. Bousquet.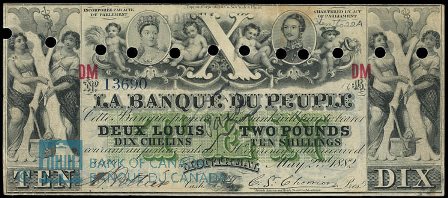 Bank Notes from 1885 – 1892:
These can have dates of November 6th 1885, May 2 1888, or July 2, 1892.  Some notes were printed by Toppan, Carpenter & Co. New York & Phila.  Others were printed by The Canada Bank Note Co. Montreal for La Banque Du Peuple.  Five, ten, fifty, and one hundred dollar bills were issued.  Both "Quebec" or "S S" could be overprinted on the notes (many notes don't have any overprint at all).  Long story short, most of these bank notes from this time period are rare.  Please contact us for details.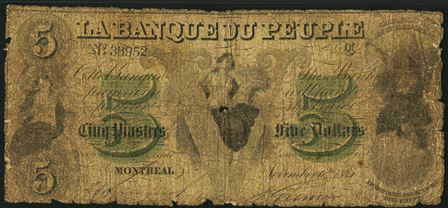 GOT SOMETHING TO SELL?
We buy all types of Canadian currency.  We are especially interested in bank notes from La Banque Du Peuple in Montreal.  You might be surprised at how much money we can offer for some currency.  Send us an email with pictures of the front and back of your bank note and we will respond quickly with our offer.
Sample Bank Note Image:
Your piece of currency from La Banque Du Peuple in Montreal could look similar to the one seen below.  There are lots of different varieties for this bank.  Your exact bank note probably looks different.  Contact us for more value information.