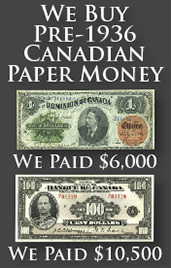 Value of Old Banknotes from The Bank of Canada in Montreal
Old Money from The Bank of Canada in Montreal
First off, let's make sure everyone understands that the Bank of Canada we are talking about here has nothing to do with THE Bank of Canada that still operates today.  We are specifically looking at The Bank of Canada that was open from 1818 to 1831 in Montreal.  When the bank closed in 1831 its outstanding business was purchased by The Bank of Montreal.
Bank Notes from 1818 – 1823:
The Bank of Canada issued bank notes that can be dated as 1818, 1819, 1820, 1821, 1822, and 1823.  Most notes are worth $100 to $200.  There are some counterfeits out there and there are some more valuable notes.  We definitely recommend contacting us if you have specific questions.  There are lots of varieties that are worth more than others.
GOT SOMETHING TO SELL?
We buy all types of Canadian currency.  We are especially interested in bank notes from The Bank of Canada in Montreal.  You might be surprised at how much money we can offer for some currency.  Send us an email with pictures of the front and back of your bank note and we will respond quickly with our offer.
Sample Bank Note Image:
Your piece of currency from The Bank of Canada in Montreal could look similar to the one seen below.  There are several different varieties, so don't worry if yours is different.  Contact us for more value information.