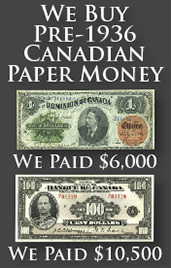 Value of Old Banknotes from The Bank of Ottawa in Montreal, Canada
Old Money from The Bank of Ottawa in Montreal
If you have been reading much of our guide then you can probably guess that based on the fact that The Bank of Ottawa was around in 1837 that it is a spurious bank.  You would be correct.  The Bank of Ottawa was not a true financial institution.  It was established by scammers from New York.  Most spurious banks only issued one type of bank note.  This bank actually issued one, three, five, and ten dollar bills.  Dates include 1837, 1838, and 1844.  Prices start at about $100 and go up from there based on condition and rarity.  Please contact us for details.
GOT SOMETHING TO SELL?
We buy all types of Canadian currency.  We are especially interested in bank notes from The Bank of Ottawa in Montreal.  You might be surprised at how much money we can offer for some currency.  Send us an email with pictures of the front and back of your bank note and we will respond quickly with our offer.
Sample Bank Note Image:
Your piece of currency from The Bank of Ottawa in Montreal could look similar to the one seen below or you could have a different denomination.  Contact us for more value information.