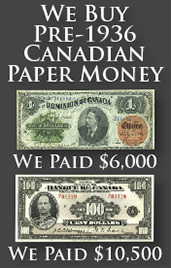 Value of Old Banknotes from The Exchange Bank of Canada in Montreal
Old Money from The Exchange Bank of Canada in Montreal
The Exchange Bank first opened in Montreal in 1872.  Bank notes were issued in 1872 and 1873, but the bank was never really very successful.  It closed in 1883 mostly due to poor management.  Our guide below has more information about its currency.
Bank Notes from 1872:
Four, five, six, ten, and twenty five dollar bank notes were issued by The Exchange Bank of Canada.  These can be dated as 1st Oct (October) 1872 or 1st Novr (November) 1872.  Each note has an engraved portrait of T. Caverhill and M.H. Gault.  The ten dollar bank note always has a blue overprint.  The lower denominations may or may not have an overprint.  If an overprint is present then it should read as:  A A, Aylmer, Bedford, Brussels, C, E E, Exeter, Hamilton, L, M M, Parkhill, Valleyfield, or X.
Of course the highlight from this bank is the six dollar denomination.  It is very rare and valuable.  Five dollar notes are the most common for the bank, but they are still few and far between.  Four dollar bills are slightly more common than ten dollar bills.  Twenty-five dollar bank notes are exceedingly rare.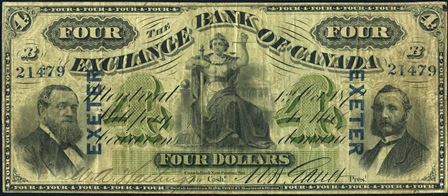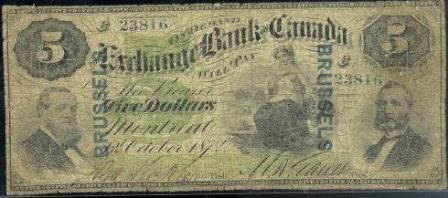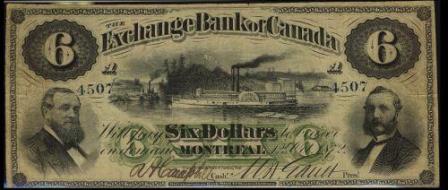 Bank Notes from 1873:
The Exchange Bank of Canada issued $50 and $100 bills dated as 2nd Jan. 1873.  These are basically just like the lower earlier denominations.  The British American Bank Note Co. Montreal & Ottawa printed them.  Caverhill and Gault are featured on the front of each bank note.  These two denominations are very rare.
GOT SOMETHING TO SELL?
We buy all types of Canadian currency.  We are especially interested in bank notes from The Exchange Bank of Canada in Montreal.  You might be surprised at how much money we can offer for some currency.  Send us an email with pictures of the front and back of your bank note and we will respond quickly with our offer.
Sample Bank Note Image:
Your piece of currency from The Exchange Bank of Canada in Montreal could look similar to the one seen below. Ten dollars is the highest denomination that is considered available to collectors.  Contact us for more value information about any Canadian bank note.