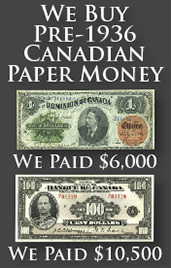 Value of Old Banknotes from The Mechanics Bank of Montreal, Canada
Old Money from The Mechanics Bank of Montreal
The Mechanics Bank was open in Montreal from 1865 until 1879.  It was a legitimate financial institution, but it was run by corrupt officials.  The bank pumped out as many bank notes as it could.  Once the bank failed, the notes were only redeemable at 57.5% of their face value.  Many people chose to hang onto their notes rather than redeem them for less than face value.  That, combined with a large printing quantity, is the reason why these are plentiful today.  Read below for more information.
Bank Notes from 1872:
The British American Bank Note Co. Montreal & Ottawa printed four, five, and ten dollar bills for The Mechanics Banks.  All notes are dated as 1st June 1872.  Your bank note could be signed by W. Dunn, J.H. Menzies, C.J. Brydges, or W. Shanly.  There are a total of fifteen varieties across the three denominations.  Most of the varieties are based on signatures and overprints.  There are five blue overprint possibilities: A A, B B, L L, Alexandria, or Beauharnois.  Ten dollar bank notes are quite scarce.  Four and five dollar bills are frequently available for a couple hundred dollars.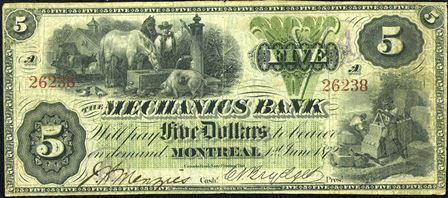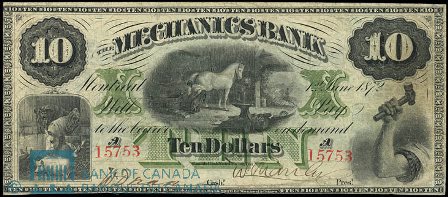 GOT SOMETHING TO SELL?
We buy all types of Canadian currency.  We are especially interested in bank notes from The Mechanics Bank of Montreal.  You might be surprised at how much money we can offer for some currency.  Send us an email with pictures of the front and back of your bank note and we will respond quickly with our offer.
Sample Bank Note Image:
Your piece of currency from The Mechanics Bank of Montreal could look similar to the one seen below.  Keep in mind that five and ten dollar bills were also printed.  Overprints can also vary.  Contact us for more value information.