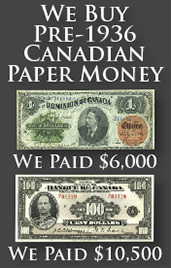 Value of Old Banknotes from The Merchants Bank in Montreal, Canada
Old Money from The Merchants Bank in Montreal
We are specifically looking at the first incarnation of The Merchants Bank when it operated under that name from 1864 until 1868.  In 1868 it changed its name to the Merchants Bank of Canada when it absorbed the Commercial Bank of Canada.  The Merchants Bank did print paper money and it is very rare today.  See below for details.
Bank Notes from 1864:
The Merchants Bank of Montreal issued $1, $2, $5, $10, $50, and $100 bills.  They were all printed by the American Bank Note Co., New York and signed by Hugh Allen or A. Cameron.  An engraved portrait of Hugh Allen is on the front of each bank note for all denominations.  The engraved date reads as June 1st 1864.  Bank notes were issued in small quantities so very few exist today.  Please contact us if you have something available for sale.  We would welcome the chance to make an offer on such a rare item.
GOT SOMETHING TO SELL?
We buy all types of Canadian currency.  We are especially interested in bank notes from The Merchants Bank in Montreal.  You might be surprised at how much money we can offer for some currency.  Send us an email with pictures of the front and back of your bank note and we will respond quickly with our offer.
Sample Bank Note Image:
Your piece of currency from The Merchants Bank in Montreal could look similar to the one seen below.  One dollar bills are the most common.  Contact us for more value information.