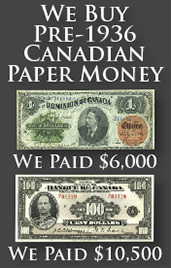 Value of Old Banknotes from The Union Bank of Montreal, Canada
Old Money from The Union Bank of Montreal
This guide covers both The Union Bank and The Union Bank of Montreal.  They are the same banking institution.  The Union Bank was the first title and around 1841 it changed its name to The Union Bank of Montreal.  Our guide below has more information about its bank note issues.
Bank Notes from 1838 & 1839:
These can be dated as July 14 1838, Aug. (August) 1838, or August 1 1839..  These were printed by Burton & Gurley New York.  One, two, three, five, ten, and twenty dollar bills were issued.  These are typically broken down into plain backs, green backs, blue backs, and orange backs.  All varieties are valued virtually the same.  Exact pricing comes down to denomination and condition.
Bank Notes from 1840:
These notes were issued under The Union Bank of Montreal title.  Fifty and one hundred dollar bills were printed by Danforth, Underwood & Co New York as well as by Underwood, Bald, Spencer & Huffy, Philadelphia.  Both denominations are dated as January 1 1840.
GOT SOMETHING TO SELL?
We buy all types of Canadian currency.  We are especially interested in bank notes from The Union Bank of Montreal.  You might be surprised at how much money we can offer for some currency.  Send us an email with pictures of the front and back of your bank note and we will respond quickly with our offer.
Sample Bank Note Image:
Your piece of currency from The Union Bank of Montreal could look similar to the one seen below.  Other types and denominations are out there, so don't worry if yours is different.  Contact us for more value information.