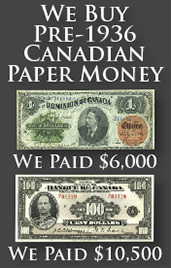 Value of Old Banknotes from The Newcastle District Loan Company in Peterborough, Canada
Old Money from The Newcastle District Loan Company in Peterborough
Not a whole lot is known about The Newcastle Loan Company itself.  We do know that Rawdon, Wright & Hatch printed one, two, four, and ten dollar notes for the bank.  These are also denominated as five shillings, ten shillings, twenty shillings and one pound, and fifty shillings.  Each note should have a signature of Geo. Cunningham and George Hall.  If your note doesn't have a signature, then you probably have a remainder.  There really isn't much of a price different between remainders and issued bank notes.  All of these bank notes can have lots of different dates since the date is handwritten.  Observed dates are Feb 15 1836, 6 Augt 1836, 13th Augt 1836, 20 Augt 1836, 27 August 1836, and 8th Oct 1836.
GOT SOMETHING TO SELL?
We buy all types of Canadian currency.  We are especially interested in bank notes from The Newcastle District Loan Company in Peterborough.  You might be surprised at how much money we can offer for some currency.  Send us an email with pictures of the front and back of your bank note and we will respond quickly with our offer.
Sample Bank Note Image:
Your piece of currency from The Newcastle District Loan Company in Peterborough could look similar to the one seen below. Lower denominations are also out there to collect.  Contact us for more value information.