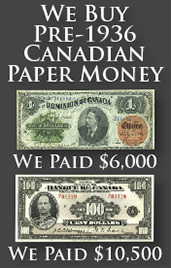 Value of Old Banknotes from The Union Bank of Newfoundland in Saint Johns, Canada
Old Money from The Union Bank of Newfoundland in Saint Johns
The Union Bank of Newfoundland existed from 1854 until 1894.  The bank was poorly managed.  However, it was the closure of the Commercial Bank of Newfoundland and the bank run associated with it that ultimately caused The Union Bank to fail.  The government of Newfoundland stepped in and started to redeem bank notes at a rate of 80 cents on the dollar.  It appears that some people weren't happy with that rate because some high grade notes exist today and they are certainly worth far more than 80% of the face value.  Our guide below has much more information about paper money from The Union Bank of Newfoundland.
Sailing Ship Notes from 1854 & 1855:
These early bank notes are denominated as one pound, two pounds, five pounds, and ten pounds.  There is no mention of dollars on these bank notes.  Perkins, Bacon and Co. London handled the printing responsibilities for The Union Bank of Newfoundland.  Dates include May 18 1854 and 1st March 1855.  Jno. W. Smith, Rob't Prowse, Ewen Stable, and Lawce O'Brein could have signed these bank notes.  One pound notes are rare.  All higher denominations are even rarer.  We are showing a proof/specimen note below.  These are usually available for around $1,000.  Issued bank notes (with signatures and a serial number) would be worth much more money.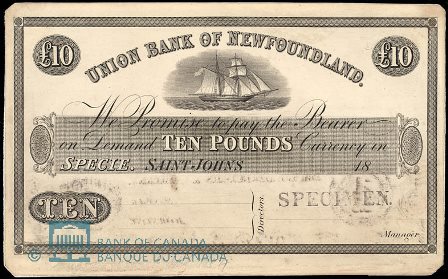 Queen Victoria Notes from 1865 – 1883:
The American Bank Note Co New York printed one, five, and ten pound bank notes for The Union Bank of Newfoundland.  The date range is from 1865 to 1883.  Some recorded dates include May 1 1865, 2 Oct 1865, 4 Oct 1865, 1st March 1867, 3 Oct 1875, 3 Apr 1876, 1st Septr 1877, 1st May 1880, 1 Oct 1881, and 1st August 1883.  There are slight variations across different denominations from different years.  All notes include an engraved portrait of a young Queen Victoria.  Prices range from about $500 to several thousand dollars.  Please contact us for details.

Bank Notes from 1882 & 1889:
Currency from 1882 and 1889 is grouped together because all of it was printed by The American Bank Note Co. New York; all notes were signed by C.S. Pinsent and James Goldie.  Two dollar bills are the only bank notes dated as 1st May 1882 and they each have a portrait of John W Smith.  Five, ten, twenty, and fifty dollar bills are dated as May 1st 1889.  Generally speaking, as the denomination gets higher, so does the value.  These notes are by far the most popular with collectors of any currency issued by The Union Bank of Newfoundland.  The colors and interesting engravings are a nice break from ships, seals, and codfish.  High grade examples of $2, $10, and $20 bills are out there.  We would love the chance to purchase any 1882 or 1889 bank notes.  Please offer if you have something for sale.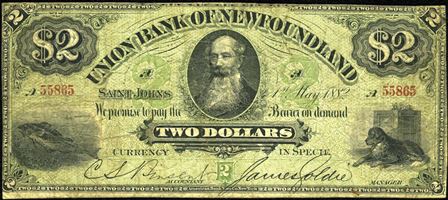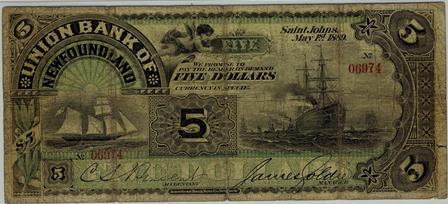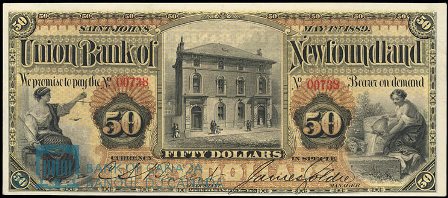 GOT SOMETHING TO SELL?
We buy all types of Canadian currency.  We are especially interested in bank notes from The Union Bank of Newfoundland in Saint Johns.  You might be surprised at how much money we can offer for some currency.  We frequently pay thousands of dollars for nice examples.  Send us an email with pictures of the front and back of your bank note and we will respond quickly with our offer.
Sample Bank Note Image:
Your piece of currency from The Union Bank of Newfoundland in Saint Johns could look similar to the one seen below.  Don't worry if yours is different because other denominations and designs were used.  Richly colored bank notes are always popular.  Contact us for more value information.