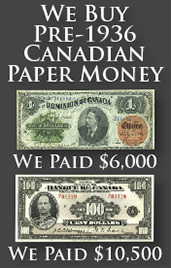 Value of Old Banknotes from The Colonial Bank of Canada in Toronto
Old Money from The Colonial Bank of Canada in Toronto
The official years of operation for The Colonial Bank are 1856 to 1863.  However, the bank didn't actually open for business until 1859.  The Colonial Bank only operated for six months, really through no fault of its own.  The International Bank failed and caused a run on the bank and it was forced to close.  Its charter was finally repealed in August of 1863.  Our guide has information paper money from the bank.
Bank Notes from 1859:
Despite just being open for six months, The Colonial Bank of Canada did manage to issue lots of paper money.  Printing duties were handled by Jocelyn, Draper, Welch & Co. along with The American Bank Note Company.  Signors include E.C. Hopkins, T. Hough, Wm. Bettes, and G.G. Moss.  One, two, three, four, five, ten, twenty, fifty, and one hundred dollar bills were issued.  All notes were dated between April and October 1859.  Denominations of one dollar through ten dollars come in two varieties based on whether they have one or two signatures.  Both varieties are very common and normally sell for around $100.  If you have a $20, $50, or $100 then that is a different story.  All of those denominations are quite scarce.  There are lots or remainders that exist today.  Remainders are not dated, signed or numbered.  The $100 bill shown below is a remainder.  The $5 bill at the bottom of the page is an issued bank note.  Issued currency is always more valuable.  Contact us if you would like a free appraisal.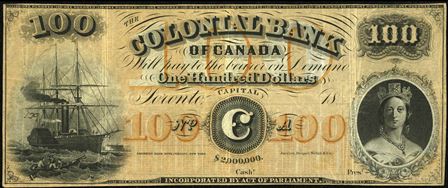 GOT SOMETHING TO SELL?
We buy all types of Canadian currency.  We are especially interested in bank notes from The Colonial Bank of Canada in Toronto.  High denominations and high grade notes are of particular interest.  Send us an email with pictures of the front and back of your bank note and we will respond quickly with our offer.
Sample Bank Note Image:
Your piece of currency from The Colonial Bank of Canada in Toronto could look similar to the one seen below.  Of course other varieties exist, so don't worry if yours is different.  Contact us for more value information.