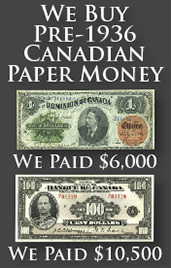 Value of Old Banknotes from The Farmers J.S. Banking Co. in Toronto, Canada
Old Money from The Farmers J.S. Banking Co. in Toronto
The Farmers J.S. Banking Co. was not a real bank.  It was spurious/fictitious.  It was trading on the name of the legitimate Joint Stock bank of the same name.  Ten dollar bills were printed by Casilear, Durand, Burton & Edmonds, N. York.  Issued bank notes should have the forged signatures of Wm. Phipps and J.W. Sherwood.  Issued ten dollar bills are dated as Feb 1 1849.  Most of what we see today are unissued remainders.
GOT SOMETHING TO SELL?
We buy all types of Canadian currency.  We are especially interested in issued bank notes from The Farmers J.S. Banking Co. in Toronto.  Send us an email with pictures of the front and back of your bank note and we will respond quickly with our offer.
Sample Bank Note Image:
Your piece of currency from The Farmers J.S. Banking Co. in Toronto should look similar to the one seen below.  It is a remainder note.  An issued bank note would have signatures and a completed date.  Contact us for more value information.