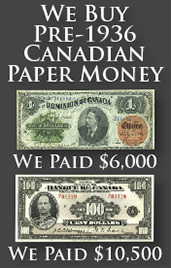 Value of Old Banknotes from The Federal Bank of Canada in Toronto
Old Money from The Federal Bank of Canada in Toronto
The Federal Bank of Canada was a short-lived institution operating out of Toronto.  It was originally named The Superior Bank, but it never opened under that name.  1874 marks the first year it was open for business.  Things went well until 1884 when assets turned bad.  Other Toronto banks, not wanting to see a bank run, provided financial assistance so The Federal Bank of Canada could wrap up its operations without losses.  The bank officially closed in 1888.  We have details about its paper money issues below.
Bank Notes from 1874 – 1882:
The British American Bank Note Co. Montreal printed $4, $5, $10, $50, and $100 bills for The Federal Bank of Canada.  These can be dated as 1st July 1874, 1st Jan 1877, and Septr 1st 1882.  Each bank note has a portrait of H.S. Strathy and William Alexander.  S. Nordheimer signed each bank note.  Bank notes under the $50 denomination are occasionally available in low grades.  As you might expect, $50 and $100 bills are very rare.  We provide free appraisals and we would welcome the chance to purchase any currency from The Federal Bank of Canada.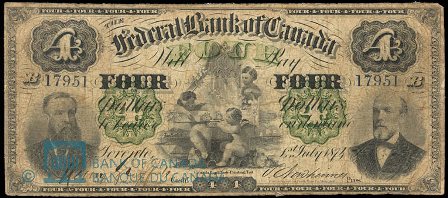 GOT SOMETHING TO SELL?
We buy all types of Canadian currency.  We are especially interested in bank notes from The Federal Bank of Canada in Toronto.  You might be surprised at how much money we can offer for some currency.  Send us an email with pictures of the front and back of your bank note and we will respond quickly with our offer.
Sample Bank Note Image:
Your piece of currency from The Federal Bank of Canada in Toronto could look similar to the one seen below.  Don't worry if yours is different.  Other denominations also exist.  Contact us for more value information.