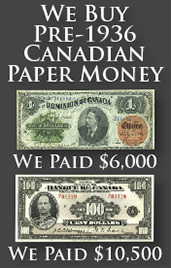 Value of Old Banknotes from The Merchants Bank of Toronto, Canada
Old Money from The Merchants Bank of Toronto
The Merchants Bank was a spurious bank whose bank notes popped up around 1836 and 1837.  It traded under the assumption that a Merchants Bank probably should be in Toronto.  Of course no such institution existed.  Terry, Pelton and Co. Boston & Prov printed one, two, three, and five dollar bank notes.  A list of signors includes: Wm. Firman, J.G. Hunt, A.W.G. Rank, N. Wood, H. Hamblin, and Geo. R. Wait.  The notes only had a partially engraved date.  Observed dates include Dec 5 1836, May 4 1837, June 1 1837, June 14 1837, and July 4 1837.  Condition is always important when it comes to valuing paper money.  Most of these bank notes will trade for between $100 and $500.
GOT SOMETHING TO SELL?
We buy all types of Canadian currency including bank notes from The Merchants Bank of Toronto.  Send us an email with pictures of the front and back of your bank note and we will respond quickly with our offer.
Sample Bank Note Image:
Your piece of currency from The Merchants Bank of Toronto could look similar to the one seen below.  Of course other denominations will have different designs, so don't worry if yours is different.  Contact us for more value information.