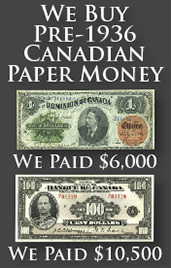 Value of Old Banknotes from The Sovereign Bank of Canada in Toronto
Old Money from The Sovereign Bank of Canada in Toronto
The Sovereign Bank opened in Toronto in 1901.  The bank made several poor managerial decisions in a rush to get big and gain both depositor and lender accounts.  The bank paid savings account interest on a quarterly basis.  That was a first for Canada.  The bank attracted questionable loans due to their loose lending standards.  Bad accounts combined with an uneasy banking climate resulted in the banks closure in 1908.  Twelve different banks came to the rescue of The Sovereign Bank so that they could absorb its branch banking interests.  Fortunately for collectors, today we are left with some rare and attractive bank notes.  See our guide below for more information.
Bank Notes from 1902 to 1907:
The American Bank Note Co. Ottawa printed five, ten, twenty, and fifty dollar bills for The Sovereign Bank of Canada.  These can be dated as May 1st 1902, May 1st 1905, May 1st 1906, or May 1st 1907.  Some notes from 1902 could have a large "M" overprint in red ink.  Each denomination, with exception of the $10 bill, has a wonderful engraved portrait of King Edward VII.  Many different people could have signed each bank note; it just depends on the time period.  The typed signature of H.S. Holt, Randolph Macdonald, or Aemilius Jarvis should be on the left hand side of every bank note.  Five dollar bills are the most available of the bank notes issued by The Sovereign Bank of Canada.  Ten dollar bills are also occasionally available.  The two highest denominations ($20 and $50 bills) are prohibitively rare.  Needless to say, these are beautiful bank notes and we would welcome the chance to purchase one.  Contact us today for a free appraisal.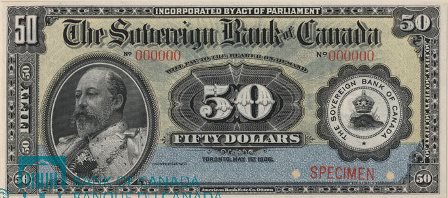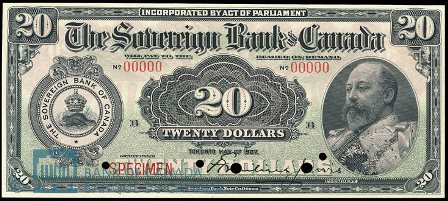 GOT SOMETHING TO SELL?
We buy all types of Canadian currency.  We are especially interested in bank notes from The Sovereign Bank of Canada in Toronto.  You might be surprised at how much money we can offer for some currency.  All of these bank notes are very high on our want list.  We would pay thousands of dollar for any example in fine condition or better.  Send us an email with pictures of the front and back of your bank note and we will respond quickly with our offer.
Sample Bank Note Image:
Your piece of currency from The Sovereign Bank of Canada in Toronto could look similar to the one seen below.  Of course other denominations will have different designs, so don't worry if yours is different.  Contact us for more value information.