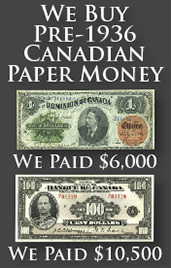 Value of Old Banknotes from The St. Lawrence Bank of Toronto, Canada
Old Money from The St. Lawrence Bank of Toronto
The St. Lawrence Bank was technically open from 1872 until 1876.  However, a lot of that time period was stop and go banking.  It struggled to get off the ground and apparently its managers and branch locations were less than ideal.  In 1876 the bank was renamed The Standard Bank of Canada.  Today we are only left with proof notes from The. St Lawrence Bank.  Printing duties were handled by The British American Bank Note Co. Montreal & Ottawa.  Notes are dated as 2nd Dec. 1872 with an engraved signature of J.C. Fitch.  Four, five, and ten dollar bills were designed.  The original designs had K.F. Lockhart on the $4 bill, J.C. Fitch on the $5 bill, and both men together on the $10 bill.  Those two bankers were dismissed when the bank reorganized so they were removed from the bank note designs.  It took nine months for currency from The Standard Bank to be designed, so the new bank notes without the banker portraits were circulated during that transition period.  Please contact us if you would like a free appraisal on your bank note.
GOT SOMETHING TO SELL?
We buy all types of Canadian currency.  We are interested in proof notes from The St. Lawrence Bank of Toronto.  Send us an email with pictures of the front and back of your bank note and we will respond quickly with our offer.
Sample Bank Note Image:
Your piece of currency from The St. Lawrence Bank of Toronto could look similar to the one seen below.  We are showing a non-portrait variety ten dollar bill.  Of course four and five dollar bills will look different.  Contact us for more value information.