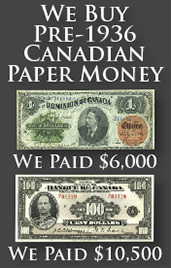 Value of Old Banknotes from The Bank of Vancouver, Canada
Old Money from The Bank of Vancouver
The Bank of Vancouver in British Columbia organized in 1908 but it didn't open until July 30, 1910.  This was a short-lived institution.  The bank originally opened hoping to capitalize on the industrial and real estate boom in Vancouver.  As the boom died down, so did the bank's business and it ultimately closed in 1914.  Fortunately for collectors though, some lovely bank notes were issued.  Our guide below has more information.
Bank Notes from May 2nd 1910:
The British American Bank Note Co. Ottawa printed five, ten, twenty, fifty, and one hundred dollar bills for The Bank of Vancouver.  Each note has an engraved signature of R.P. McLennan.  Each note is dated as May 2nd 1910.  There are three different types of bank notes you are likely to run into.  The first, and most valuable, would be an issued and uncancelled bank note.  The five dollar bill seen below is issued and uncancelled.  The ten and twenty dollar bills are issued but they are punch cancelled.  Those are still rare, but not as valuable as uncancelled notes.  The least valuable bank notes are proofs, like the $50 and $100 bill.  Of course any denomination can be issued, cancelled, or a proof.  Please contact us if you need a free appraisal on your bank note.  We are certainly buyers.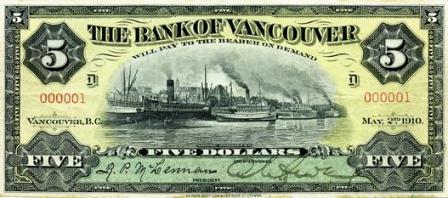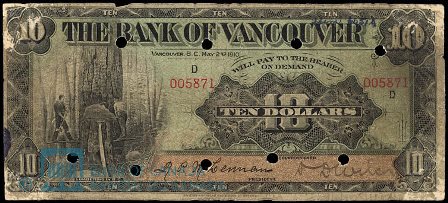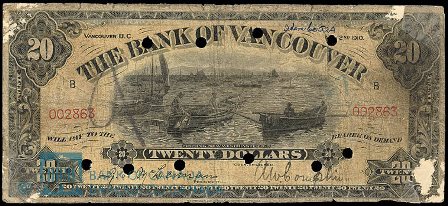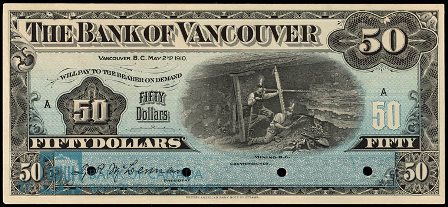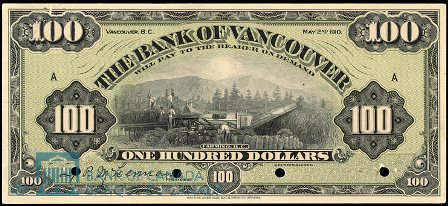 GOT SOMETHING TO SELL?
We buy all types of Canadian currency.  We are especially interested in bank notes from The Bank of Vancouver.  This is one of our favorite banks.  You might be surprised at how much money we can offer for some currency.  We have paid more than $10,000 for many of these bank notes.  Send us an email with pictures of the front and back of your bank note and we will respond quickly with our offer.
Sample Bank Note Image:
Your piece of currency from The Bank of Vancouver could look similar to the one seen below.  You are most likely to see five dollar bills.  Of course other denominations do exist though.  Contact us for more value information.