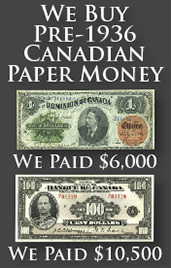 Value of Old Banknotes from The Northern Crown Bank of Winnipeg, Canada
Old Money from The Northern Crown Bank of Winnipeg
The Northern Crown Bank in Winnipeg, Manitoba began operations in 1908 when The Northern Bank and The Crown Bank of Canada were merged.  The bank would ultimately be bought out by The Royal Bank of Canada in July 1918.  The Northern Crown Bank had 111 locations when it was bought.  The bank issued lots of bank notes and more than 40 examples are known to exist across all denominations and years.  See our guide below for details.
Bank Notes from 1908 & 1914:
The British American Bank Note Co. Ottawa printed five, ten, twenty, and fifty dollar bills for use by The Northern Crown Bank.  Each note has an engraved signature of D.H. McMillan.  Five and ten dollar bills can be dated as July 2nd 1908 or July 2nd 1914.  Surprisingly, the 1914 notes are a little bit rarer.  Twenty and fifty dollar bills were only printed with the July 2nd 1908 date.  The vignettes and basic layouts are very similar to the earlier 1905 notes from The Northern Bank.  However, the $50 bill was redesigned and now features a lion.  Both $20 and $50 bills are very scarce.  The two lower denominations are available in low grades but rare in high grades.  Please contact us if you would like a free appraisal.  We are certainly interested buyers.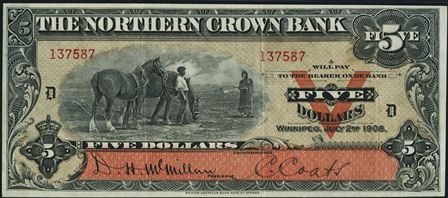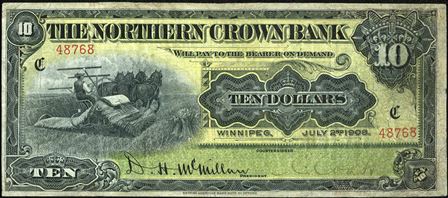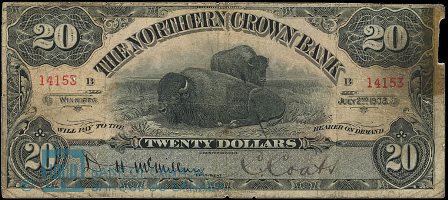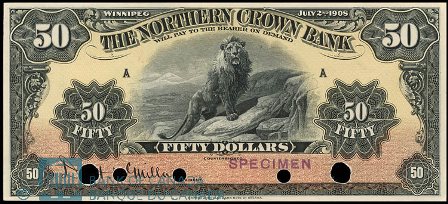 GOT SOMETHING TO SELL?
We buy all types of Canadian currency.  We are especially interested in bank notes from The Northern Crown Bank of Winnipeg.  You might be surprised at how much money we can offer for some currency.  High grade notes are worth thousands of dollars.  Send us an email with pictures of the front and back of your bank note and we will respond quickly with our offer.
Sample Bank Note Image:
Your piece of currency from The Northern Crown Bank of Winnipeg could look similar to the one seen below.  It a nice lightly circulated ten dollar bank note.  We have all denominations from the bank pictures above.  Contact us for more value information.