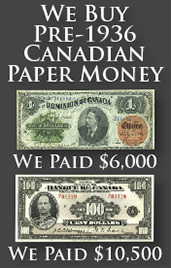 Value of Old Banknotes from The Bank of Yarmouth in Nova Scotia, Canada
Old Money from The Bank of Yarmouth in Nova Scotia
The Bank of Yarmouth was one of two banks in Yarmouth that issued paper money.  This institution was open from 1859 until it failed in 1905.  Our guide has more information about bank notes from Yarmouth.
Bank Notes from the 1860s:
The American Bank Note Co. N.Y. printed twenty dollar bills for The Bank of Yarmouth in the 1860s.  Each note has an engraved date of Dec. 1st 186_.  In theory these $20 bills could be from any year in the 1860s.  Each note is signed by J.W.H. Rowley and Wm. Hammond.  A red overprint for "Canada Currency" should be present on these.  You are much more likely to encounter proof notes (without serial numbers and signatures).  It is thought that 20,000 $20 bills were issued.  Of course most have been redeemed and destroyed.  We have an issued bank note shown below.  The lady in the central vignette is the Princess of Wales.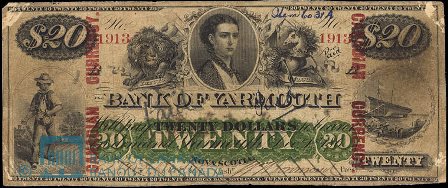 Bank Notes from 1870 & 1891:
The British American Bank Note Co. Montreal & Ottawa printed four, five, and ten dollar bills for use by The Bank of Yarmouth N.S.  Notes can be signed by T.W. Johns, L.E. Baker, or John Lovitt (among others).  Engraved issue dates are July 1st 1870 and July 1st 1891.  Some notes have the red "Canada Currency" overprint; others will not.  The $10 bill has a portrait of Queen Victoria.  The other denominations just feature generic vignettes.  We would love the chance to purchase any bank notes from The Bank of Yarmouth.  Please contact us if you need a free appraisal.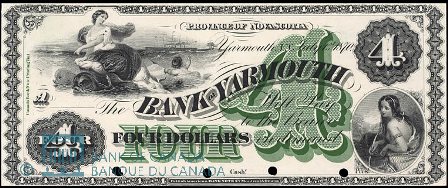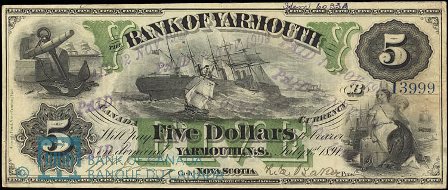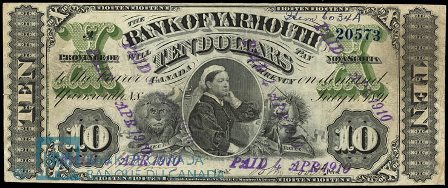 GOT SOMETHING TO SELL?
We buy all types of Canadian currency.  We are especially interested in issued and proof bank notes from The Bank of Yarmouth in Nova Scotia.  You might be surprised at how much money we can offer for some currency.  Send us an email with pictures of the front and back of your bank note and we will respond quickly with our offer.
Sample Bank Note Image:
Your piece of currency from The Bank of Yarmouth in Nova Scotia could look similar to the one seen below.  Any bank note with a serial number and signatures would be very valuable.  Contact us for more value information.