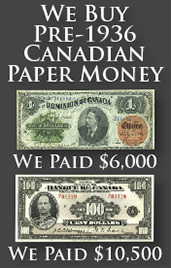 Value of Old Banknotes from The Exchange Bank of Yarmouth, Canada
Old Money from The Exchange Bank of Yarmouth
The Exchange bank of Yarmouth, Nova Scotia opened in 1867 and was bought by The Bank of Montreal in 1903.  Despite being open for 36 years, The Exchange Bank only issued three bank note denominations.  The designs stayed the same throughout the years.  The printing work was performed by The American Bank Note Co. New York.  Bank notes can be dated as Aug. 1st 1869, Aug. 1st 1870, July 1st 1871, July 1st 1890, July 1st 1900, or July 1st 1902.  There are two possible signature combinations, A.S. Murray and A.C. Robbins or T.V.B. Bingay and Robert Cale.  Some bank notes could be overprinted with a red "S" or "Canada Currency" also in red ink.  All issued bank notes from The Exchange Bank of Yarmouth are very rare.  We would certainly welcome the chance to purchase one.  Please contact us if you need a free appraisal.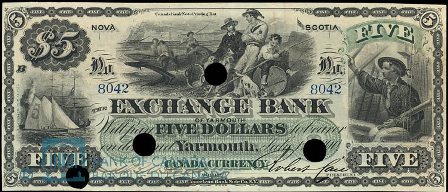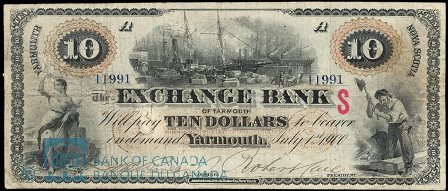 GOT SOMETHING TO SELL?
We buy all types of Canadian currency.  We are especially interested in bank notes from The Exchange Bank of Yarmouth.  You might be surprised at how much money we can offer for some currency.  All Yarmouth bank notes are very rare.  Send us an email with pictures of the front and back of your bank note and we will respond quickly with our offer.
Sample Bank Note Image:
Your piece of currency from The Exchange Bank of Yarmouth could look similar to the one seen below.  It is one of three denominations that were issued.  Contact us for more value information.