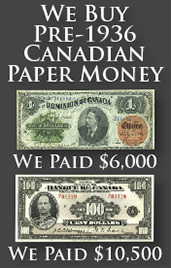 Value of Old Banknotes from The Bank of Upper Canada in York
Old Money from The Bank of Upper Canada in York
The Bank of Upper Canada was the first bank located in York, Canada.  In 1834 York changed its name to Toronto.  The Bank of Upper Canada was very successful and even held governmental accounts.  However, it would ultimately fail in 1866 thanks in part to a real estate recession.  The bank's failure was the first time such a high profile bank in Canada had ever failed.  The bank was a prolific bank note issuer.  We have a very brief guide below.  If you have any paper money from The Bank of Upper Canada then we would strongly encourage you to send us pictures of it.  We happily provide free appraisals.
Bank Notes:
Issued bank notes from The Bank of Upper Canada are very rare.  There are dozens of different varieties.  The least a note could be worth is about $750.  Most notes in fine condition or better should sell for $1,500 or more.  Altered notes and counterfeits or reproductions would of course be worth much less money.
Locations:
The bank was headquartered in York/Toronto.  However, you can find bank notes with engraved or stamped locations for:
Belleville
Brockville
Goderich
Hamilton
Kingston
London
Montreal
Ottawa
Quebec
Sarnia
St. Catherines
Stratford
Windsor
Dates:
Most bank notes from The Bank of Upper Canada only have partially engraved dates.  That means that the bank was responsible for dating each note by hand using an ink pen.  Pretty much any date is possible.  Observed dates include 1822, 1826, 1827, 1829, 1830, 1831, 1832, 1833, 1836, 1837, 1838, 1849, 1851, 1852, 1853, 1854, 1855, 1856, 1857, 1859, and 1861.
GOT SOMETHING TO SELL?
We buy all types of Canadian currency.  We are especially interested in bank notes from The Bank of Upper Canada in York.  You might be surprised at how much money we can offer for some currency.  Send us an email with pictures of the front and back of your bank note and we will respond quickly with our offer.
Sample Bank Note Image:
Your piece of currency from The Bank of Upper Canada in York could look similar to the one seen below.  Dozens of other varieties exist, so don't worry if your bank note is different.  Contact us for more value information.