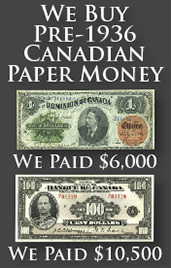 Value of July 1st 1870 $1 Bill from The Dominion of Canada
Dominion of Canada July 1st 1870 One Dollar Bill
Description:   This is the first one dollar bill issued by The Dominion of Canada. The famous explorer Jacques Cartier is featured on the front of each bank note. The central vignette is also interesting. It shows an allegorical female pointing to Canada's location on a globe. 1870 $1 bills are popular, but usually only found in lower grades. Keep reading for more variety and value information.
Varieties:   There are lots of varieties for the 1870 $1 bill. The back of our example note says Payable at Halifax. The most common varieties say Payable at Montreal or Payable at Toronto. The Payable at St. John variety has a similar rarity to the Halifax variety. The rarest notes (by far) are those marked as Payable at Victoria. Some of the Montreal and Toronto notes could have an overprint on the front for Manitoba. Manitoba overprint notes are also very rare. The front of each note always has Ottawa as the engraved location. Furthermore, serial numbers can be red, blue, or black based on the issue location. The main thing you want to check are the back payable office and the location overprint (if present).
Quantity Printed:   5,780,000
Text:   The Dominion Of Canada – Will Pay To The Bearer Ottawa July 12th 1870 – One Dollar – Canada Bank Note Printing Tint – British American Bank Note Co Montreal & Ottawa
BANK NOTE FRONT:
NEED AN APPRAISAL OR WANT TO SELL?
We buy all 1870 $1 bank notes from The Dominion of Canada. Values are based purely on condition and generally range from $400 to $4,000. If you would like our offer, then please send us pictures of your bank note. We will grade the paper money and respond back quickly with our buy and sell price. You might be surprised at how much money some high grade notes or rare varieties can be worth.